Woodside Explorer Scout Unit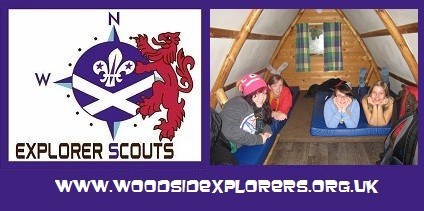 The Woodside Explorer Scout Unit is based in Rosyth and regularly meets at Rosyth Methodist Church on a Friday evening between 7pm and 9pm.

The name Woodside Explorer Scout Unit is derived from the street that separates the two Scout Groups (13th Fife & 41st Fife) that they regularly receive new members from... `Woodside Avenue`.

The Unit welcome all young people - male and female - between the ages of 14 and 18 to come and join them for fun and adventurous activities including archery, conservation, bushcraft, mountain biking, scuba diving and international expeditions to name but a few.

For the most up to date information on Woodside Explorer Scout Unit, please CLICK HERE to visit their website.


I really enjoy being a Young Leader with the Scouts. I help out at my local Beaver Scout Colony and it is great to see the smiles on their faces when we do an exciting activity. I remember the fun I had when I was their age and being part of the team that gives something back is great.